Love blooms in the most unexpected places.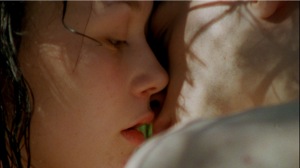 "Thorns" uses magic realism to convey a very realistic, universal feeling - the awkwardness of adolescence and the power of first love. It is a fable, a fairy tale and a love story.

Thorns was written and co-produced by Giula Sandler. The film was shot over two days on location in Bacchus Marsh and Albert Park with a minimal crew. It was shot by Marcus Dineen, who also shot my student film 'a-life'.
The main shoot was followed by a day of pickups, marked by the disappearance of the original creek - it had gone dry in the intervening months!

The other hurdle for the film was a freak lab accident that scratched every single frame of film. Fortunately, thanks to the kindness of Warren Lynch at Kotij, now Intercolour, we were able to afford to do a DI, which meant I spent the next few weeks hand painting out scratches using Shake.

"Thorns" was shot on Super 16mm Fuji stock and was transferred to Uncompressed HD on a Sony Vialta telecine. The digital intermediate was performed at Intercolour by Warren Lynch on a Lustre colour grading system, and the film output was performed by Speedwedge on their proprietary 35mm film recorder.

"Thorns" was made possible by a group of passionate and supportive industry professionals who donated their time and expertise to help create a unique and beautiful film.

"Thorns" was completed in May 2004.

Running Time: 7 minutes Click on the picture for a small photo album.